Queen Slugretha
Earned RESPECT in 2006
The judges respected the stellar performance of Slugretha
Latifah Uleafa Gastropodia Jackson.
After pageant officials placed a lime green sash over her fire
engine red, sequined gown, Jackson approached the micro-
phone to give her acceptance speech.
"I feel good," she sang as the crowd cheered on. "You know
that I would. I feel good. So good. So good. I am queen."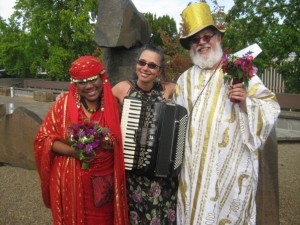 During the talent portion of the contest, Slugretha sang
"Chain of Slugs" to the Franklin tune "Chain of Fools." She
was accompanied by six backup singers – the Slimettes – and
two small girls who tended to the 12-foot train of her dress.
When she's not tending to her regal duties, Slugretha, whose
real name is T.K. McDonald, works as the office manager at
the University of Oregon philosophy department.